2Y-Chem, Ltd.

Add:

No.12, Lane 67, Libing Road, China (Shanghai) Pilot Free Trade Zone

Tel:

86-21-51320090

Email:

info@2ychem.com

Web:

www.2ychem.com
2Y-Biopharma, Ltd.

Add:

Jiangfeng Road, High-Technology Industrial Development Zone, Qidong, Nantong, Jiangsu, China

Tel:

86-0513-83266672-8001

Fax:

86-0513-83266672-8005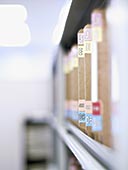 CMC

Our dedicated and talented staff has a solid track record supporting the regulatory filings in Chemistry, Manufacturing and Control (CMC) for use in IND/IMPD/ANDA.

Based on excellent records, and entrusted by customers worldwide, 2Y-Chem has contributed to the development and manufacturing of a number of new chemical entity (NCE) APIs for clinical trials in EU and in the USA.

QA

2Y-Chem's QA leads the organization in quality management, and plays a supervisory
and auditing role for all quality systems.

Areas covered by our QA include but not limit to
·

Raw material release

·Batch record review
·Intermediates release
·Final product release
·Change control
·Deviation/OOS investigation
·Document retention and archives
·Regulatory files preparation